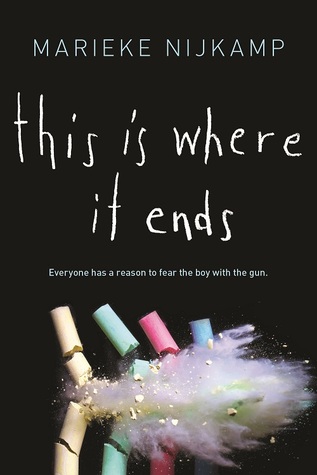 At 10 am, the principal ends her welcome to the new semester speech. Two minutes later, the students get up to leave. That's when they discover the doors won't open.

The bullets start flying.

54 minutes later, it's all over. But what happens in those minutes will forever change the lives of everyone involved.
My Thoughts: What a powerful book! I couldn't stop reading it despite the tears rolling down my cheeks. I have to say, I hate that we live in a world where this happens. This book captures the terror of what I imagine the situation to feel like...and I hope that no one has to go through this again.
I liked the different perspectives of the book at different places in school at the time of the shooting. I liked the diverseness of voices.
I felt the fear. I felt the heartbreak. I felt the emotional pull of this story. I can't say I liked this book because it's such a terrible type of story - but it was a good book and a story that needs to be told.
Cover Thoughts: Powerful
Source: ARC sent for review
Release date: January 5th
Final Thoughts: Pick this up and read. Then pass it on. A very important book for all.