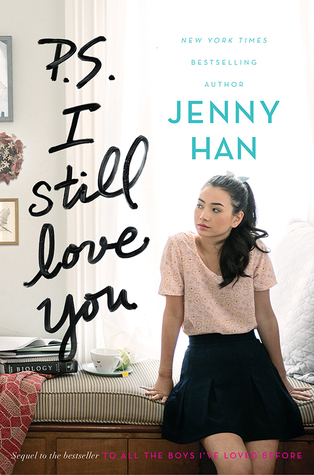 * Book 2 in the Love Trilogy *
Lara Jean isn't happy that her fake relationship ended with Peter. She misses him. So on New Year's Eve, she writes him a letter. The letter works like magic and they're back together. Lara Jean couldn't be happier.

Until a video of her a Peter in the hot tub goes viral. She's so embarassed that everyone knows. She's deveestated. Peter defends her. But they aren't saying awful things about him.

Lara Jean knows her ex best friend and Peter's ex-girlfriend is behind the video, but she can't prove it. Peter defends Gen. What starts out as friction between the two of them leads to drama.

Can a fake relationship turned real actually work?
My Thoughts: I loved this sequel.
I love the power of words and letters. I love that Lara Jean wrote on New Year's Eve, to create an understanding for the new year. I liked learning about Lara Jean's family cultural traditions for New Year's.
I felt horrible for Lara Jean and dealing with the fallout from the video posted. I can't imagine going through anything like that.
I like the game the old friends play and Lara Jean's chats with John.
I love Kitty -she's funny, sharp, and wildly entertaining. I love her schemes, especially trying to set up her father on date.
I can't wait to see what happens next.
Cover Thoughts: Cute
Source: My Library



Final Thoughts: Jenny Han captures contemporary romance perfect - the highs and lows combined with drama, friendship, and family. If you haven't read this yet, what are you waiting for?