This week's topic is my favorite series (more than 3 books) I read from the past 2 years. This is hard - I'm a HUGE series reader of all ages. So...here we go and I'm sorry, this list will be WAY more than just 10.
Series Still Going Strong:
MG
:

YA
: Clearly there are lots of trilogies in YA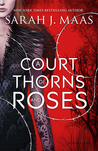 Adult
:
Series that Ended
:

Bonus
: Technically series is more than three books, but I LOVED these two trilogies so much that I need to include it too.