This week's topic is for readers who like Spies, Thrillers, and Heist books. I read a lot of these, so I'm going to divide the group into ages as usual when I can't narrow it down to just 10.
Middle Grade:
YA: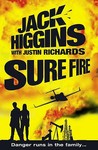 Adult: (Maybe more thriller than spy)
Did I miss any of your favorites?
Have you read any of these or a book that's not on the list that I should read?
Let me know!