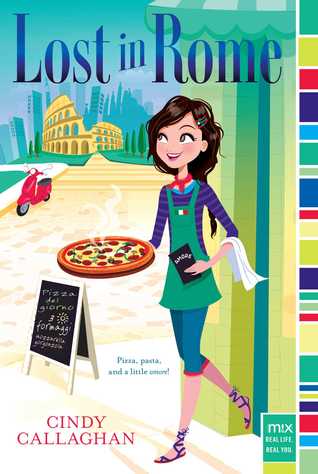 Lucy and her sister can't wait to return to Rome during the summer. Lucy's excited to help out her grandmother is the family pizza joint. But when she arrives, she learns that business is down - way down. Lucy has some creative ideas that just might help bring business back to normal.

Unfortunately, some of the ideas go against her grandmother's wishes. She wants to play matchmaker to customers based on their favorite pizza toppings. When she first tries it, everything works out.

Soon a reporter comes by and wants to do a story. Lucy concocts a scheme to get her grandmother to leave the restaurant. When the article comes out, business picks up again. Could it be enough to save the business?
My Thoughts: I love Cindy Callaghan's Lost in books (Ireland, London, and Paris) and this book is no different. Super cute, super fun read. I loved the moments in the pizza shop, my mouth watered when reading about all the great pizza and sandwiches that were being made. I really liked Lucy's ideas on how to update and market the pizza joint. I loved learning about the matchmaking through pizza slices. I loved how she created stories and exaggerated history. I liked Lucy's sister Gianna and her fashion and DIY ideas. The secondary characters were fun. There's a small romance plot line.
Cover Thoughts: Fantastic
Source: My Library
Final Thoughts: A wicked fun read filled with family, friends, great food, and matchmaking.