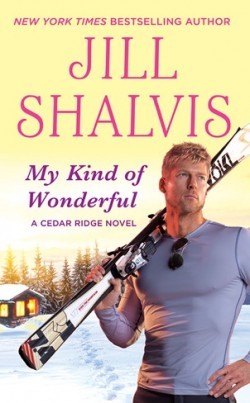 * Book 2 in the Cedar Ridge series *
Hudson Kincaid's felt a hole in his life ever since the argument where his twin took off and never looked back. Since then, he's tried to shoulder everything. He's been so good at taking care other people that he's neglected his own happiness.

Bailey's excited to test out her new wings and try things she never thought she'd try. When Hudson's mother hires her to create a mural, she can't say no. Even if Hudson himself isn't on board with the idea.

The two of them butt heads from the beginning, but could those sparks be the start of something real?
My Thoughts: I really loved this book. I love the Kincaid family for how they came together, for their banter, and for their loyalty towards each other. I love how hard they work at turning the ski resort around.
I loved Bailey outlook on life and how she wanted to try new things. I loved watching her interact with the Kincaid family.
I loved the banter between Bailey and Hudson.
I loved the moments on the mountain - watching the world.
Lots of humor, family drama, and that perfect ending scene as expected in a Jill Shalvis book. I can't wait to read the next book: Jacob's story!
Cover Thought: Cute
Source: My Library
Final Thoughts: Another winner for Jill Shalvis. Don't miss it!