Halloween is on the horizon, and for many of us that means binge watching and reading all the scary stories that we can get our hands on! Because scary stories so often involve hapless teenagers who unwittingly fall into deadly scenarios involving monsters, killers, and the occasional psychopath we asked young adult thriller and horror authors Rin Chupeco, Natalie Richards, Patty Blount, and Allan Stratton to share the advice they would give their characters to help them make it out of the story alive!
I'd suggest that Okiku take a vacation every now and then. She hasn't had any in over three hundred years and it tends to make her cranky. Hawaii is nice almost all year round. She loves hot springs, so even a weekend getaway in Kyoto would improve her mood tremendously. I'd say the same thing for Callie, too – she worries way too much. Surprisingly, I don't have much advice to give Tark. After everything he's gone through, it's a wonder he's still sane.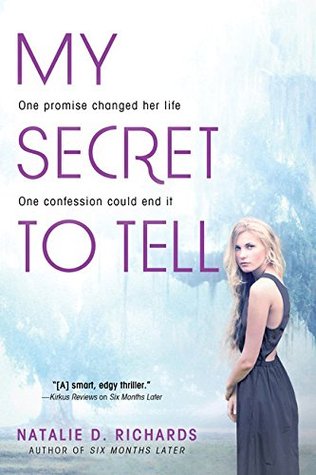 Natalie Richards (My Secret to Tell)
I think I'd tell Emmie to ease up on herself. In fact, one of her mentors does say that early on in My Secret to Tell, but my characters never listen. Believe me, I'd know. But Emmie really wants to make people happy. When there are failings or wounds in her family or her friends, she's always there trying to make it right, trying to fill up the holes. But it's a hard thing and Emmie's spread awfully thin. And frankly, with her lifelong friend and crush, Deacon, on the run from the police, Emmie ends up helping way more than she probably should, but that's what love does to us, right? We all go a little farther than we plan when our hearts are on the line.
As for Deacon, I think I'd tell him to let himself heal. Deacon lost his mother—he actually discovered her when she died—and he's sort of stuck in his grief, even though it's been years. Sometimes grief can do that. It can shut a person down and leave them shadows of their former selves. He's a bit broken, really. A little closed off and reckless and untrusting. But the trouble with being stuck in grief is that you can't always just hop over the hard parts. Sometimes lots of little things have to work together to see you through to the other side. That's what Deacon's journey is about in many ways. That and, of course, trying not to go to prison.
To trust that nothing is permanent. No matter how bad things feel right now, there is always a change coming.
Dear Dad,
I promised Matt I'd do this—become a Junior Cadet. That I wouldn't let you break me down. I know you hate me. Blame me for everything you lost. But that day I lost my brother and my dad. You could never be proud of me, could you? I was too "different." So, just in case you haven't figured it out yet, I'm saying good-bye. Maybe someday you'll miss me.
Reece
Reece's words make her ache. Amanda understands wanting to belong. As a foster kid, she only feels at home at the firehouse where she volunteers. She wants to help Reece, but his dad is her boss. And she won't risk her place as a Junior Cadet—it's all that she has. But when a string of arsons points to Amanda's foster brother as the culprit, her whole world is about to go up in flames. And the only way for Amanda and Reece to save each other is to risk getting burned
I mean, FGS, Cameron—don't look out the window at the cornfields when it's dark. Because for sure you'll see shadows. And the shadows will move. And then what will you do? What will you think? So just don't, okay?
And about the trapdoor to the attic: if a trapdoor to an attic is nailed shut, it's because there's something up there. Something you likely don't want to see. So don't even think about opening it. Just stare at the floor and pretend it doesn't exist.
As for the old barn, there's a reason it hasn't been used in fifty years. Don't ask. There just is. You know it. Also, anyone who ever worked there is dead by now. Like the farmer who got ripped apart by his dogs. You know the story, right? So don't go there.
Don't go into Mr. Sinclair's barn either. He has a meat grinder. Ever wondered how people get rid of dead bodies? No? Good. Because it would only upset you.
And while we're on the subject of being upset, don't think about your father. And for sure, don't phone him. You and your mom have been on the run for years. You know why too. He almost killed her. And, okay, maybe she's a little paranoid, but maybe she isn't. Maybe all the things she can't tell you are true.
So like I said, if you think of doing something: Don't. Just don't.
BUY LINKS:
Enter to win a THRILLS and CHILLS Prize Pack
featuring titles from Rin Chupeco, Natalie Richards, Patty Blount, and Allan Stratton: