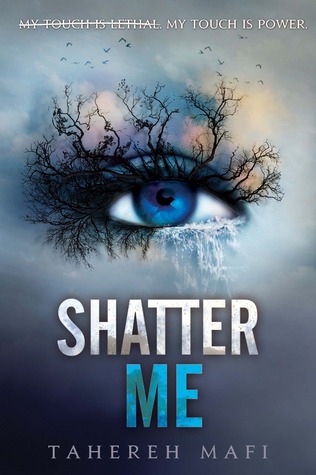 * 1st in a trilogy *
Juliette's touch is fatal and because of that she's been locked away. One day, she gains a call mate. At first, he's horrible taking her bed and her little comforts. She doesn't pay him any attention. She doesn't answer his many questions, but she does show him the ropes.

He begins to realize he's been a jerk and apologizes to her. They begin to talk, it's not much but it increases daily. As their talks get more personal, Juliette begins to view him as a friend. That's when Adam is taken away.

Before long, Juliette's taken too. What she learns could be the death of her...
My Thoughts: I enjoyed this dystopian book with a side of X-Men powers. I felt sorry for Juliette through the entire book - for the time she spent with her parents, to the time she spent in the cell, to the time she spent as a prisoner.
I liked her interactions with Adam - and how she knew him from before her life turned upside down.
I liked Adam, especially his interactions with his brother.
I liked the issue of trust and loyalty - I was never quite sure what was a lie and what wasn't. It kept me guessing and turning the pages.
The government propaganda, the horror or war, and a person as weapons plot lines were well done. They were horrible, convincing, and made me cringe.
Cover Thoughts: Not a huge fan - it doesn't tell me much about the book

Final Thoughts: I've been wanting to read this book for a long time - the idea of X-Men powers hooked me. Even though I'm late to the party, I'm glad I read this and I'm looking forward to book 2.