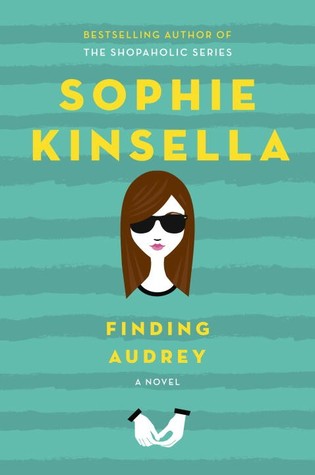 After an incident at school Audrey can't leave the house. She can't interact with people. She can't look at people without her dark sunglasses on for protection. She's been trying to make progress with her anxiety with the help of her psychologist.

Now, she's trying things that scare her. She's looking at the world through the lens of a camera. She's going to try to interview someone outside her family.

She interacts with her brother's new friend. He comes over to the house. He doesn't know about Audrey. Still, his kindness helps Audrey open up around him. She starts looking forward to his visits. Can Audrey find happiness again, on her own terms?
My Thoughts: I adore Sophie Kinsella's adult books and I was SO happy to hear about her YA debut. She has the perfect voice for YA.
Top things I liked:
The moments with Dr. Sarah - how she tried to explain the rules of making strides towards getting better, but that it was going to be a matter of ups and downs. There wasn't going to be an all out cure - and while Audrey could get better, she could also take steps backwards. I found it realistic and an interesting look at life after a bullying incident.
I also really liked that you never found out what that incident was - you could just imagine the possibilities.
I loved Frank - from his support of his sister to his love for video games. He was funny, sweet, inventive, and entertaining
Their mother - perfectly written in her own addiction to the Daily Mail, her need to get her son off video games, and the lengths she would go to achieve her goals. Wildly entertaining
Linus - sweet, supportive, likable, and the voice of reason at times
Audrey - flawed, finding herself, taking steps to overcome her anxiety,
I loved the moments with Audrey and Linus
Cover Thoughts: It's grown on me, but it isn't my favorite
Source: Sent for review
Final Thoughts: Sophie Kinsella knocks it out of the park with her YA debut, I can't wait to see what she comes up with next.