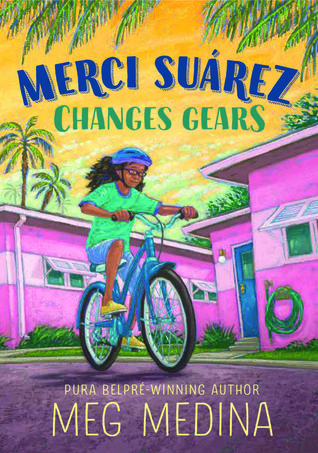 Merci's having a tough year in sixth grade; it seems like everything and nothing is changing. It's her second year at her private school in Florida, but she's still not comfortable there. She's not like the other students. She doesn't live in a big house. She doesn't have a pool n her backyard.

Instead, she lives with her family in three houses, close together. They all look out for each other and take turns doing various jobs. But sometimes it's hard. Merci wants to try out for the soccer team, but she's forced to babysit her cousins instead.

Merci feels out of place at home and at school. The girls are more interested in boys than sports. Merci isn't. She hopes that she can find her place - and quickly.
My Thoughts: I really liked this book, but I felt terrible for Merci. She's dealing with so many changes and so many hard moments. I loved her moments playing soccer with the guys. I liked how she stood up for herself against the girls at school. I felt terrible for her grandfather. I wanted to give him the biggest hug ever. I really enjoyed her family and how close they were. I loved the ending.
Cover Thoughts: Perfect
Source: My library