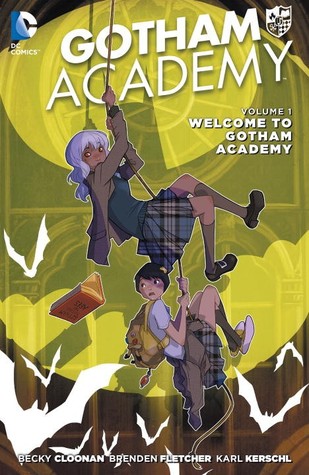 Gotham Academy isn't your regular school. Olive has changed over the summer, and she can't remember why. She's supposed to show Maps around the school.

Maps is her boyfriend's sister. She really likes Maps, but she and Kyle aren't really talking. She doesn't know what to say to him. She doesn't know what to say to anyone...anymore.

When Maps and Olive uncover some strange happenings, they start to investigate, which might not be the best idea.
My Thoughts: I loved the first volume of this series and I'm looking forward to the second. I love Maps. She's small but feisty. I'm interested to uncover Olive's secret summer and how that changed her (and maybe her mother.) I like the small romance plot line and the friendship plot lines. I love the action and the danger. All in all, a great graphic novel for the library's collection, especially with superheroes on the rise.
Cover Thoughts: Cool
Source: My Library
Fun Fact: In the back of the book, there's a discussion on art and influences of the character creations.