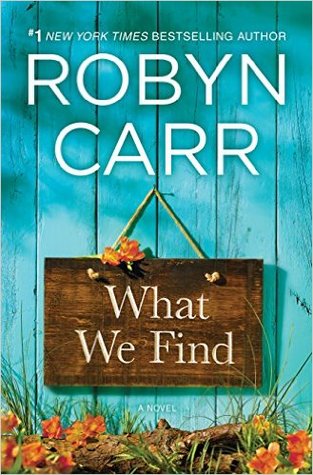 * First in a new series *
Maggie's having a bad year. Her medical practice is in trouble - from her partners and her own drama. The parents of a dead teenager are suing her. On top of that, Maggie's just miscarried and her boyfriend doesn't want to deal with her drama. He dumps her flat out. All of this combined leaves Maggie crying in the stairwell.

Her friend finds her and suggests Maggie take a few weeks off. Maggie realizes that might be the best idea and flees to her father's home. There she hopes to straighten her life around and to figure out her next steps.

Sully lives off the the trail of the Continental Divide Trails where he owns a general store mixed with camping areas. It's the perfect place to relax and unwind - until he has a heart attack.

Maggie takes great care of him, but she can't do everything herself. A man who was just passing through steps in to help her. He's a little secretive, but Cal might be just want Maggie needs.
My Thoughts: Robyn Carr came through Connecticut on her book tour and she was entertaining. I was more excited than ever to start her new series, although I fully admit to be a newbie to her books. I have read one other book before, but I haven't started her series yet.
I really liked this book. In the beginning of the book, I felt heartsick for Maggie. But I loved how strong she was, how she didn't back down from her future, and how she took control in situations.
I love the layers of relationship in this novel. I really liked her conversations with her father - from the teasing moments to the sweet moments where they talked about the past and how it changed them both. I liked Maggie's relationship with Walter and how she started realizing the influence he's had on her life and how she starts to finally understand him. I really liked Cal - he's strong, a thinker, a reader, and knows how to handle himself.
I'm so looking forward to the next book in this series.
Cover Thoughts: Charming
Source: Book sent for review