Welcome to a new series on the blog of book recommendations for pop culture fans! I'm excited to kick things off!
I'm a HUGE fan of the Bourne movies and I couldn't be happier with another movie out today.

Crossing the Line: An agent stolen returns home to become a double agent - but for which side?
Zero Day: A girl is kidnapped when her father is a Senator, but gets free when he's President. Could she be a traitor?
Fixer: Tess becomes involved in the political landscape of Washington D.C. where she uncovers a conspiracy involving the deaths of her classmates' family members.
Powerless: Kenna's tired of being normal, but when a boy saves her life, she's forced to rethink everything that she knows and everyone in her life.
Killer Instinct: Lane's mother works hunting down serial killers. Lane's gotten a taste of this work and attempts to hider her obsession, but the newest killer finds out and starts communicating with her.
I Become Shadow:

Ren Sharpe was having an average day until she was kidnapped.

She trained with weapons, survival tactics, and more to be good enough. Finally she passed the training session and got her first assignment.
I am the Weapon: Boy Nobody shows up, attaches himself, kills someone to make it look natural, and leaves without anyone being the wiser. Except this time.
The Living: A mysterious disease, a sinking cruise ship, and a boy determined to live.

Mind Games
: Sisters
Fia and Annie
do what they must to survive in the hands of the company that uses them as weapons.
Two Lies and a Spy: When Kari's dad sends the worst text imaginable, she grabs her brother and goes into hiding - like her spy parents taught her.
Spies and Prejudice: Berry and her BFF are on a stakeout when they meet two boys, one charming and one proud. A picture she snaps on a whim leads her down a path she shouldn't follow.
Also Known As
:
Maggie's never had a normal life. She travels with her spy parents - helping them break into safes all over the world. On her
first solo mission, she must befriend a boy, infiltrate his house, and steal a computer file.
I'd Tell You I Love You, But then I'd Have to Kill You: Cammie's an awesome spy, but not so awesome when it comes to acting natural around boys. Will she blow her cover in just one night?
.


Cold Fury: When her family's kidnapped, Sara Jane must use her family traits to keep the mob in line.
The Night She Disappeared
:
Gabie switched shifts at the pizza joint with Kayla. When a mysterious call requests a pizza delivery, Drew doesn't think twice about it. Kayla goes to deliver the pizza and never returns. Gabie realizes that it was supposed to be her.
Heist Society
:
Kat used to lead a life of danger before she pulled her biggest con ever and walked away from a life of thievery to attend boarding school. Her enrollment last a few months before her old life comes crashing over her plans. Her master thief father needs her help.
She makes a deal with the devil, but it will take all her skills to pull of this heist.
Model Spy
: After getting caught hacking in to a secure government site, Kelly has a choice - go to juvie or be recruited for a secret
government program called the Specialists.
Perfect Cover: Toby Klein would never in a million years be a cheerleader - until they want her. And tell her that one little secret. Cheerleaders are just a cover for spies at Bayport High.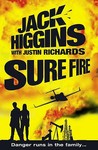 Sure Fire: When their mother dies, Jade and Rich must live with their father - whom they don't know because he's a spy.
Devil's Breath: After he narrowly escapes an assassin at his school, Max learns that his father is missing. He left his son clues and now Max will follow them - no matter the cost.
Traitor: Danny's grandfather was betrayed and deemed a traitor. Now Danny and his grandfather are on the run to clear their family name.
Stormbreaker: When his uncle dies, Alex doesn't believe the reason for his death. In setting out to prove it, he becomes recruited to finish the spy job is uncle died trying to achieve.