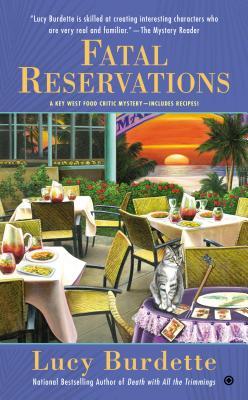 Trouble's brewing in Key West between the police and the community. Things aren't so happy between the street artists either. There have been a string of burglaries and when a performer is murdered, Hayley's friend Lorenzo becomes the prime suspect.

Hayley can't believe her friend's capable of murder. But when he runs, she has to admit it looks suspicious. Hayley can't help asking a few questions on behalf of her friend.

With work and relationship both on rocky terms, she could use a distraction. But the more she digs, the more she wonders if she could be wrong about her friend.
My Thoughts: Another great addition to this charming series. I loved learning more about Key West from the politics to the street performers and the hoops the restaurateurs have to jump through. I loved learning more from Miss Gloria's new gig at the cemetery. Lorenzo's been a key characters in these books, I liked learning more about his back story too. As usual, I love the moments where Hayley eats for her reviews or cooks up something delicious. Her troubles at work are better, but a new set of concerns has popped up. I learning about her writing process for her reviews, and how they're changing with new management.
Cover Thoughts: Cute
Source: Sent for Review
Final Thoughts: Reserve your time to read this series, it's delightful. Fatal Reservations digs into the community to create an entertaining book full of characters that jump off the page and mouth-watering food.