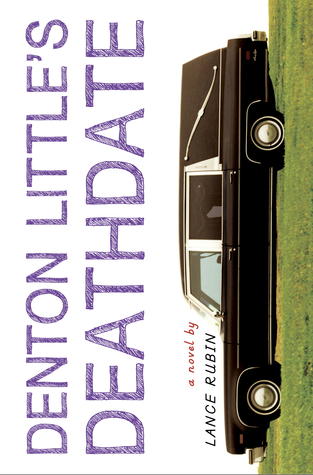 In a world where most people know the date of their death - Denton is one of the few with a young death date. He will die sometime today - on the date of his senior prom. He won't even finish high school.

He has his last time all planned out - spending time with his girlfriend, hanging with his best friend, and finally getting in a little quality family time.

All of that goes up in smoke when he wakes up in his best friend's sisters room hungover. He doesn't remember anything from last night - but his action change the course of his perfect day.
My Thoughts: Knowing the date you're going to die (anytime in that 24 hour period) could take the book in a very serious direction. While this book is serious - it's also really funny.
The relationships in this book stand out- between Denton and his family, his friends, and his girlfriend. Everyone wants to spend time with him, but he wants to let the day unfold. How do you say goodbye to the people who mean the most to you?
His near accidents make everyone around him more and more paranoid, but he stays mostly calm. I love his talk at his funeral - how he doesn't hold back and tells everyone what he really thinks. I love the idea of passing out candy at a funeral.
Denton isn't the greatest guy in the world - but he's a thinker plus he's clever and witty. He doesn't always do what's expected of him or the right thing - he's human.
The ending is interesting and leaves you wanting more.
Cover Thoughts
: Clever
Source
: ARC from a book preview
Fun Fact:
The author spoke at the preview and he was amazingly awesome!
Inside the Book
: I love the chapter headings
Food for Thought
: What would you do with YOUR last day?
Final Thoughts: Denton Little's Deathdate

is funny, smart, and will keep you thinking about the book long after you close it. Lance Rubin hits it out of the park with his debut novel.