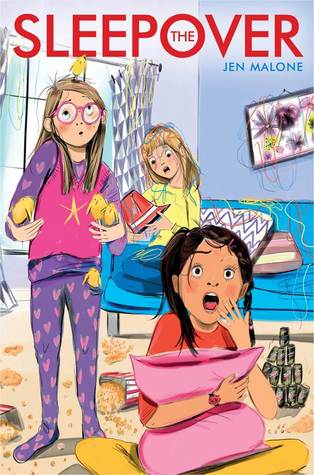 Meghan's never spent the night away from home, but this time she's excited to have an adventure with her two best friends and Anne Marie's almost step-sister.

Meghan's friends want it to be an EPIC adventure.

And it is.

When Meghan wakes up the next morning, the basement is is destroyed. But Meghan and her friends don't remember anything about the night before. Worse, the birthday girl Anne Marie is missing.

Can they retrace their steps from the night before to recover their memories and find their friend?
My Thoughts: I loved this book. The tagline: tween version of the Hangover comes across flawlessly. It's funny, sweet, entertaining, and hits all the right notes. I love how Anne Marie and Veronica come together. I love the small romance plot. I love how Meghan comes out of her shell. I even enjoyed the little brother's antics - as a younger sibling myself, I can understand them to a degree. I love how this book tackles important issues while surrounded by a super fun premise.
Cover Thoughts: Love the idea, not crazy about it though
Source: Book won from Twitter
Library Recommendation': highly recommended for Children's or Tween collection
Final Thoughts: Entertaining and a whole lot of fun. Just perfect for reading during the summer.