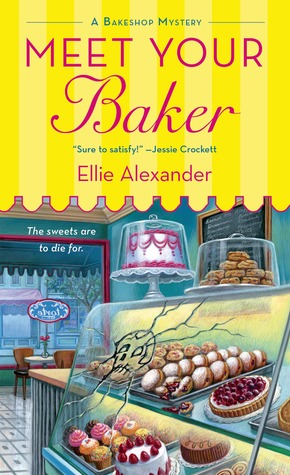 With trouble in her life, Jules decides to come home for an extended visit to straighten out her head. She's unsure what she wants to do with her life after being shaken to the core. But it's not easy being home either.

For one, her mother's hiding something - something to do with the family bakery. When someone's murdered in the bakery, things go from bad to worse. Luckily Jules, her mother, and their staff aren't the prime suspects, but it's unsettling nonetheless.

Jules can't seem to keep her mind off the murder. So she starts poking around after a little prodding from the police. Someone doesn't like the questions she's been asking. Could Jules be next on the list?
My Thoughts: A charming start to a sweet new series, which I really enjoyed reading. I loved the bake shop and hearing about all the treats made; they made my mouth water. I loved how Jules starts acclimating back into her home town and seeing old friends. I liked how she and her mother started becoming more honest with each other and less superficial. The small town charm stood out from other towns with the theater productions and theater people. The conclusion took me by surprise and made my heart race. I can't wait to see what happens next for Jules and her mother.
Cover Thoughts: Cute
Source: My Library
Next book: Out in July