Knowing we are both card makers Jennifer came to me with an idea about us spotlighting each other of our prospective blogs. I don't know why I didn't think of it because it is a fabulous idea. I'm just happy she did. For those that don't know me, I'm Andi from
Andi's ABCs
. About 2 years ago I really got into planning and paper crafts. Like most crafty things it spiraled into another crafty thing and I found myself making cards and fell in love. I 100% found my craft and I'm so happy about it.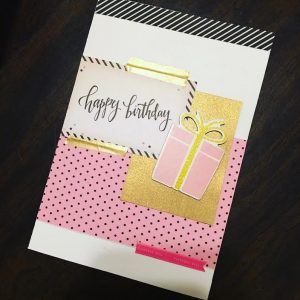 When I first started making cards I had paper crafting supplies and not card making supplies. I made due with what I had and created cards with patterned paper, chipboard stickers, washi tape, and alphabet stickers. As I realized how much I loved card making I started to grow my card making supplies and because of that my card making style has changed.
These three cards are some of my favorites I have made with my new style. I started to have a lot of fun with stamps and inks and dire cuts. I stopped using purchased patterned paper and started to make my own with stamps. And I started to use stronger, sturdier card bases. And because I was happy with where I was going with my cards, I opened up my Etsy shop,
Cards by Andrea S.
. Currently, I have a variety of cards (birthday, just because, baby) available for purchase.
Holiday cards like these will be coming to the shop soon so make sure you check back in November. If my card making style interests you please check out
Cards by Andrea S.
on Etsy. I'm giving readers of Jennifer's blog a code to save 10%. Use the code
YABOOKNERD10
at check out to receive your discount. And make sure you check out Jennifer's post today on
Andi's ABCs
!