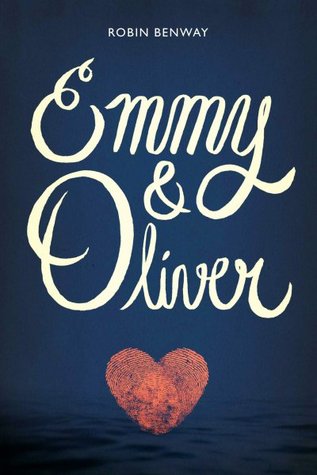 Emmy and Oliver used to be best friend, until the day Oliver's father kidnapped him. Fast forward 10 years to the day Oliver comes home.

Life's changed in the past 10 years. For one thing, Emmy's parents clutched her tightly, holding her too close to home. In order to breathe a little, she's taken up surfing. Emmy feels bad lying about her surfing skills, her dreams, and her hopes for the future.

Now that Oliver's back, he's trying to find his footing with his mother, his twin sisters, and his new step-father. At first, Emmy and her friends give him space.

But then Emmy and Oliver start hanging out again, picking right back where they left off. At first it's hard, trying to share the past ten years. Soon they're telling each other secrets they can't tell anyone else.
My Thoughts: I really loved this book.

I found Oliver's reactions to both the kidnapping and coming home fascinating. My heart broke for him and what he went through - the whole ordeal. I liked watching him struggle to find a place for himself back home. I loved his interactions with his sisters.

I felt for Emmy and her friends first discovering what happened to their friend and then dealing with the aftermath and then finally moving on. It's understandable how Emmy's parents reacted - and how she rebelled against their rules.

Caro and Drew were great best friends. I loved their conversations with Emmy and how they attempted to befriend Oliver once again.

I loved the moments between Emmy and Oliver: when they surfed, when they talked about the past, and when they talked about their hopes and dreams for the future.
Cover Thoughts: Love
Source: My Library
Final Thoughts: Snap this book up! Right now. What are you waiting for?