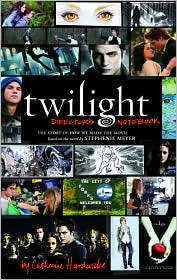 With the movie Twilight coming out tomorrow (or tonight, depending on how you look at it), here's a few things to read/enjoy after you've watched the movie (again). I know I'm going out to buy it....
Twilight: The Director's Notebook
I read this one yesterday (due to the library closing early for plumbing issues). It's filled with director Catherine
Hardwicke's
ideas for the movie. She dishes on costumes, casting, scenes, filming in the cold rainy weather, and making decisions about scenes. Pictures cover the majority of the book, but she writes notes on all the pages. The pictures include storyboards, sketches, floor plans for a scene, before and after shots of a certain location, and rehearsal stills. All and all, it's a very quick and
extremely
interesting read. It takes you behind the scenes to show you the decisions made and how a scene became altered. A must read for Twilight fans.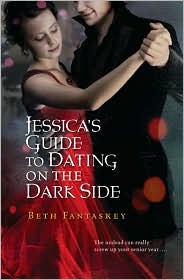 Jessica's Guide to Dating on the Dark Side:
Jessica finds her world turned upside down when a new boy appears in school telling her that she's a vampire princess and betrothed to him. He's here to take her back to Europe to stop a war. Jessica, although knows she's adopted, doesn't believe in vampires. She can't believe it when her parents tell her that not only is Lucius telling the truth, he's staying at their house so she can get used to the idea. While Jessica may not want to spend the rest of her life with Lucius, she can't help but be intrigued by him. She's more interested in another boy, but that doesn't mean her thoughts don't sometimes stray toward Lucius. Can she learn to love him and give up her life?
A romantic and heart wrenching tale that will leave readers breathless and wanting more.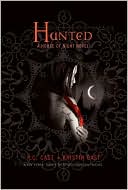 Hunted:
Zoey
Redbird is in trouble - guy trouble, school trouble, and family trouble. Although she and Erik broke up, but they're thinking of getting back together. Her episode with the teacher last book severed the imprint between her and Heath, but that's about to change again. While down in the tunnels,
Zoey
and Erik get into an
argument
when Heath appears.
Zoey
heads outside to chat privately with him and gets attacked by a giant bird under
Kalona's

control. She's gravely injured. So injured that she needs

blood

- Heath's blood. The two of the imprint once again an

Zoey's

life is saved. But if they don't return to the
school, it's possible that she'll never fully heal. With
Kalona

ruling the school with
Neferet

by his side, it's a dangerous place for

Zoey

and her friends. They're determined to bring

Kalona

and
Neferet

down, but at what cost?

An entertaining and engrossing read - for more details and fun, check out the website.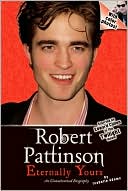 Eternally Yours
: is an unauthorized look at Robert
Pattinson's
life if you're looking for more detail on the actor who portrays Edward.
Here's some Vampire Flair - books to wet your appetite.