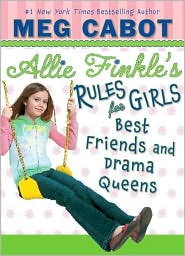 Best Friends and Drama Queens:
The third series in Meg Cabot's tale for younger girl is completely wonderful. Here, another girl moves to town, taking Allie's place as the new girl. Allie's so excited to have someone new in her class...until she's asked to give up her seat and move to the back of the class with the boys. She's so sad to leave her friends, but she's determined to make the best of it. After all, it's a special favor to her favorite teacher. However, Cheyenne isn't nice. At All. Instead, she thinks that the girls in grade four are babies. She's rather chase boys and kiss them than play make-believe games. Cheyenne soon has a following, but Allie stubbornly refuses to give in to Cheyenne's ways. Does Allie stand a chance against sophisticated Cheyenne?
I adore this series. Allie's so feisty and fun. There's so much drama going on at that age and Cabot nails it perfectly.
Meg Cabot
: Here's a very interesting biography of Meg Cabot which included how her novels tie in with her life, her childhood tales (and pictures!), how she met HWSNBNITB, and much more. Since it was published in 2008, it's pretty up to date.
A READ poster I created with a picture Meg sent me.
What do you think?
She's holding up Bad Kitty; an excellent mystery.