Miss Match: 5 Stars
When Sasha hits her neighbor's car, she begs her elderly neighbor to keep it a secret from her parents. She works out a payment plan and then must find a job. Her BFF suggests that she become a matchmaker. Now she undertakes the hardest job of all, when her sister catches a new student's eye. Can she fix him up with her sister? As she tries to work her magic and spends more time with Derek, she finds out that he's the perfect match – for her. Can she overcome her feelings and watch her sister and Derek date?

A wicked cute romance with an average girl looking for love mainly for others, but also finding it for herself.
Princess of the Midnight Ball: Based on
the fairy tale of The Twelve Dancing Princesses, Jessica Day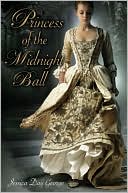 George pens her version of Rose and her eleven sisters. Due to a bargain their mother made, they must go down to Court of King Under Stone and dance the night away. What first begins as a mystery to the numerous ruined pairs of dancing slippers soon becomes the most gossiped rumor in the land. The girls are forbidden to talk about their curse; thus their father has no idea what's happening. Only death can cure the curse their mother left upon them when she died. Soon, however, the sisters become gravely ill. Even in sickness they must dance, causing their health to linger in and out of danger. Princes come from all over the land to unravel the mystery – only to die a mysterious death some days after leaving the castle. The deaths of so many princes cause alarm throughout the land. A lowly gardener, who has fallen in love with Rose, is determined to uncover the secret. When he does find out, is there anything that he can do to save the girls?

The cover alone attracted me to this book. It's gorgeous, but the delightful tale sucked me in. The dark undertones combined with the forbidden love story made the book extremely hard to put down.