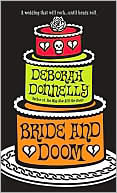 Last night I had a great night curled up reading Bride and Doom, the sixth book in the series starring a wedding planner. This time, Carnegie's helping out at a huge wedding, to make money for her own wedding. It's a baseball theme and she's hobnobbing with several players, one she crushed over in her younger days. She's having a hard time talking with her fiance about the details to their happy day. During the party, her friends gets into a fight with one of the reporters covering the story. Later that night she witnesses that same friend, kneeling over the same person with a baseball bat, drenched in blood. Boris is immediately arrested, but Carnegie knows he's innocent. She vows to spend her time searching for the murderer, even if it means lying to her fiance. Can she see eye to eye with her fiance and juggle her life trying to find a killer on the loose?
I'm big into cozy mysteries and
I really like this series though I'm still trying to figure out if this is the last book...or not.
After reading this novel, it was time for
Castle
,
a new drama
on ABC. It stars a mystery writer (Nathan Fillion a la Dr. Horrible...) who starts helping out the police when murder victims start appearing identical to the murders in his books. With his help, Kate Beckett a homicide detective, figures out the truth behind the crimes. It also featured a cameo of two big name authors - James Patterson and
Stephen J Cannell
(I confess I didn't recognize him, but found the answer
here
). I really like this show - because it's almost as good as reading a mystery novel.