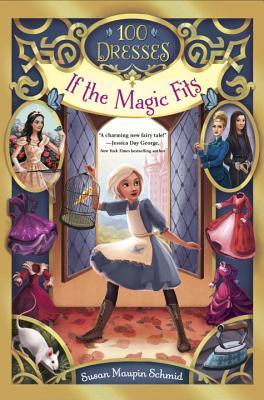 * Book 1 in a new series *
Darling Dimple lives in an enchanted castle, guarding by sleeping dragons. As a pot scrubber, her day dreaming gets the better of her. When the wardrobe mistress comes looking for a laundry presser, Darling's recommended for a job that will require attention to detail. Darling isn't thrilled about the new position.

But she soon learns about the closet filled with 100 dresses. These older dresses aren't your average dress as she soon discovers. Once you put on the dress, you become someone else.

Darling's excited to meet the Princess. But when she overhears a suitor hoping to take advantage of her, Darling knows it's up to her to uncover his castle spy and to stop them both from overtaking the Castle. Thankfully, she has 100 dresses to help her and some friends both human and animal. Can she uncover the traitors before they take over the castle and ruin everything?
My Thoughts: I really enjoyed this book. I loved Darling - how she day dreamed, how she told her friends stories, and how determined she was to help. I liked how she figured out about the dresses. I felt badly for her dealing with the other Princess's Girls, but in the head, I like how that worked out. I can't wait to read more about about Darling and her friends. And I wouldn't mind wearing one of those dresses! A charming story.
Cover Thoughts: Cute
Source: My Library
Library Recommendation: Perfect for fans of Jessica Day George or fairy tale readers. Recommended for school and public libraries.