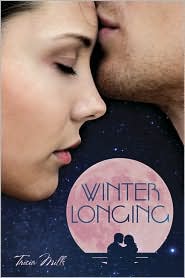 Winter has two best friends - Lindsay and Spencer. She's been in love with Spencer for years. She finally finds the courage to ask him to the winter formal dance. He says yes. The share an amazing kiss.
The next day, he goes up in the skies for his pilot's license. His plane crashes and he instantaneously dies.
Winter collapses into a deep dark depression. She's not sure she can bare his loss. Everything reminds her of him.
Her neighbor Jesse attempts to draw her out her shell. There are days when he succeeds. She believes that she can escape this melancholy stage. Then there are moments when something happens to spend her back into a tail spin.
Can Winter pick up the pieces of her life and start living again without feeling as though she's betraying Spencer?
My Thoughts: When I picked this up, I thought it was a light-hearted winter romance. I was partially right. I enjoyed the story. I like how it explored death. Winter went through stages of grief while Lindsay dealt with hers and moved on. I liked the tug and pull of Winter's relationship with Jesse. I liked how something ordinary could make her think of Spencer. They seemed to have a great friendship.
I liked Winter's self discovery.
I loved the ending of the novel, but the experience built up the tension, the emotions, and the drama.
Cover Thoughts: A little misleading, but very attractive
Source: Inter Library Loan
Similar Reads: Twenty Boy Summer or Lurlene McDaniel