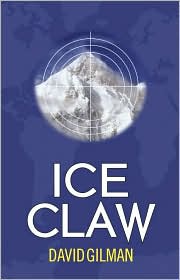 Max Gordon and his friend, Sayid, are in the French Alps where Max participates in an Xtreme sports challenge. While practicing for the event, Max crosses paths with a monk who dies before his eyes. The monk screams out a clue with his last dying breath after saving Max's life. Max can't forget the monk.
He needs to know who murdered the man and why. With dangerous men after him, he needs help. Luckily, one of the boys he competed against lends him a hand. Max doesn't give him the full story. He's not sure who to trust.
He and Sayid, who is hurt, do their best to unravel the mystery. They can't do much because Max's face is plastered all over the news as a murder suspect. Can Max clear his name by revealing the true murderers - before those responsible come after everyone in his life?
My Thoughts: The sequel to THE DEVIL'S BREATH, ICE CLAW contains the same fast pace, danger, action, and adrenaline rushes as the first book. Again, Max fights against nature, his better judgment, and bad guys to stay alive. He's persistent, smart, determined, good-hearted, and lucky. The first chapter sucked me in and I was hooked for the entire wild ride. I can't wait for the next DANGER ZONE novel!
Cover Thoughts: I love this cover for it's simplicity and yet it conveys the danger of the wilderness and of Max as a target
Source: My library - also reviewed for
www.teensreadtoo.com
where I gave it a: