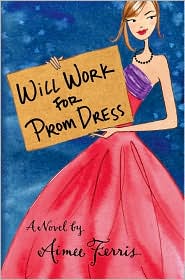 Quigley and her BFF Anne have a plan for the prom. They will work any jobs they can find in order to pay for amazing prom dresses. They will eat better and work out to tone up their bodies to show off at the prom. They will find the perfect dates for the prom.
Quigley isn't sure what she's going to do with her life. She's been rejected at her top college choice because her art portfolio lacks focus. She needs to find something to inspire her.
Anne signs them up to be live models for a fashion design course. Everyone except one boy chooses Anne as their model. Only Zander wants to work with Quigley. At first, she's humiliated, but then she gets to know Zander. He could be the perfect date to prom. Could he be interested in her?
My Thoughts: A really cute novel! I'm addicted to prom stories. I loved how these two friends tried to create the perfect prom experience. Anne and Quigley had their friendship issues and parental issues. I really liked Quigley's art incorporated into the story. Art and fashion are becoming more popular in novels and I really like it. Ferris blended these beautifully.
Cover Thoughts: Love it! I love the dress and how it ties into the book. I love the working sign as Anne gets the worst jobs for Quigley.
Source:
Goodman Media
Release Date: In February