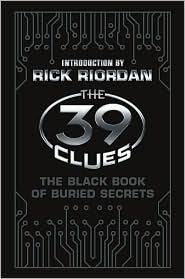 The book of secrets introduces several pieces of information already known to readers of the 39 clues, but also adds to the story.
It's broken up by branches including the Madrigals. The branches spill their secrets and some identities of their agents - past and present.
My Thoughts: I love how the authors are the real agents in this book - a great twist. A great finale of the first series where all the material comes together. I love reading about the hot spots of the various branches of the family, the family history, the tricks and tools, and famous members. The layout makes for a fast read and includes great pictures.
Cover Thoughts: I love it! It fits with the whole concept.
Source: Inter-library loan
Up Next: Vespers Rising out in April