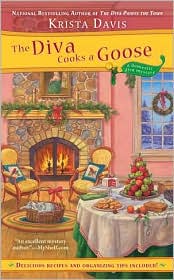 Sophie's ready to have a very Merry Christmas with her family, until someone in her sister's neighborhood steals all the presents. Sophie's recently separated sister-in-law's father brings another woman to dinner leaving everyone feeling uncomfortable.
Unfortunately this woman is familiar to the family. They're attending her Boxing Day party the next day. There the woman makes another scene, angering Sophie's family. It's not long before she turns up dead. The murder weapon appears to be a present re-gifted many times over.
Amidst many suspects and many family issues, Sophie needs to unravel the murder before it's pinned on one of her family members.
My Thoughts: I really love this series. I love the quirky characters, the decorating tips, and the cozy neighborhood. This is the 4th book in the series and just as enjoyable as always. I loved reading the Christmas mystery. There were plot twists, budding romances, crazy family members, and lots of food.
Cover Thoughts: Cozy and inviting.
Source: my Library