Chloe Neill stops by today to chat about her new book releasing tomorrow - the second book in the Dark Elite series - HEXBOUND.
You can read my review of the first book FIRESPELL
here
.
Here she is sporting her Cadogan shirt from the Chicagoland Vampire series
What made you choose to write YA
?
I wouldn't say I chose to write YA per se. It's more that I wanted to explore an idea of teenagers exploring Chicago and using their magic to protect the city, but with the consequence that the magic wouldn't last forever.
I really love the idea that you could have magic, but it won't last forever
Is it hard to cross age brackets and write for teens after writing your very successful adult series Chicagoland Vampires?
My goal is to be true to the characters--to try and present Lily and Scout as honestly as possible. So instead of trying to "write like a teenager," I try to be true to them and reflect what they're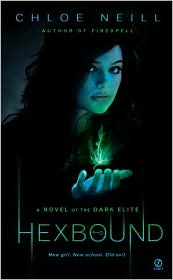 thinking about.
Can you tell us a little bit about Hexbound?
Sure! In HEXBOUND, Lily and Scout discover a new threat roaming around beneath the city--a threat that puts them right in the middle of a vampire turf war. We also get to see Lily's powers develop a bit more, and of course more fun friendship between Lily and Scout.
I can't wait to read it!
Will there be more than three in the series?
That depends on sales! There are currently three books under contract.
Oh, I hope so...
What will you do on your release day?
Release day is Tuesday, January 4, but I have a day job, so I will be at work all day. I might head out to a bookstore after work to check out the books and sign any in-stock copies.
What's up next?
I am currently finishing up the edits on HARD BITTEN, the fourth Chicagoland Vampires book, which will be released on May 3, 2011. I'm also beginning to write DRINK DEEP, the fifth Chicagoland Vampires book, which will be released in November 2011.
Awesome, I love this series!
I read on your website that you like to bake, what's your favorite item to bake?
Hmm. That's a tough one--there are so many things! I'm trying to find that perfect biscuit recipe, so I've been making a lot of those lately. Anything from Smitten Kitchen is also a favorite. I love trying Deb's recipes!
Do you have a favorite literary quote?
It's not a quote per se, but I think the phrase "something wicked this way comes" from Shakespeare's Macbeth.
Do you have a favorite library experience?
I grew up mostly in two different cities, both in the sultry south. In the summertime, I'd walk down to the library and hang out in the chilly air conditioning while looking for books I hadn't yet read. It was always cool and quiet, and a magical experience.
I love libraries, they're so magical to me.
Anything I didn't ask?
I don't think so. I hope folks have a chance to check out HEXBOUND on January 4! Thanks for having me today
Thanks for chatting with us today!
Don't miss the rest of the tour stops where you might be able to score some Dark Elite goodies. See the full list of tour stops here.
Be sure to check out the book too!