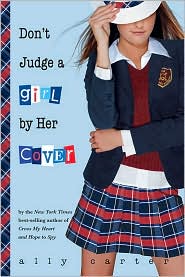 Cammie meets up with her roommate and best buddy Macey in Boston to help Macey weather the storm of her father's political ambitions. Macey doesn't show the world her true self, but she's on par with your average rich girl. She'd never give up any details of the Gallagher secrets (read SPY school for girls). In Boston, the unthinkable happens. Cammie and Macey are attacked and barely make it off the roof together and in one piece. Now that school's back in session, Cammie's shaken but she's more worried about Macey than herself. Macey must spend time with her family on the political trail and Cammie's not too far behind her - even if it means breaking the rules. Cammie's aunt is on Macey's detail team, but Cammie can't help thinking there's something in the back of her head that she can't put her finger on - something that will answer all her questions about the attempted kidnapping. She just hopes she can remember if before it's too late.
The third book in the Gallagher Girl series left me dangling with my mouth left open in shock and me needing the next book in the series

pronto

! The danger and tension in the first few pages of the book carries throughout the rest of the tale. There's also the hilarious bit about the girls who can handle almost anything trying to decode guy behavior. All in all, it's a fabulous read.