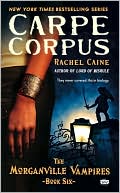 Claire and her friends are divided over the recent events in Morganville. Shane's locked up with his father.
Michael's working for the evil Bishop along with Claire - while Eve is furious with both of them.
Claire needs to believe the Myrnin has a plan, but she's not sure she can actually trust him.
Bishop is running the town and pushing it close to ruin. He doesn't care about any of the
citizens. Claire realizes that
Amelie hasn't gone into the shadows and disappeared. Instead, she's been working to move the townspeople out
of danger and away from Morganville.
With the whole town gearing up for a fight, who will be left standing and what alliances will be broken/formed?


THE MORGANVILLE VAMPIRES
series is a fast-paced, addicting read that draws readers in and never lets
them go, and CARPE CORPUS is a great addition to the line.