I always have trouble buying biographies for teens - partly because they very quickly become outdated for current celebrities, partly because patrons need to have a certain number of pages for school assignments (but not too many pages), and partly because I don't want to duplicate books in the children's/adult departments.

This leaves me either buying popular, but soon to be outdated material or purchase biographies of dead people. While I'm not opposed to either, I primarily want the books to be interesting to teens. I have a small selection of biographies and I'm always on the lookout for more.

After watching Night at the Museum: Battle of the Smithsonian, I wanted to learn more about Amelia Earhart.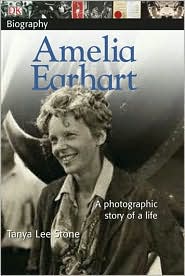 I loved this book- which is an example of a cross over children/YA title. It's a photobiography of DK, which slightly copies the Eyewitness style on a grader scale. Tons of pictures fill the book along with Earhart's life: including her struggles, her difficult life with her parents, and her passion for flying. The book ends with an in depth look at her last flight and possible scenarios for her tragic end.

Amelia Earhart was a social worker, a nurse, a fashion designer, and a feminist.
Her life story amazed me.
I'm happy there is a series of these photobiographies. I plan on reading several of them. Next up for me: Princess Diana.

Others I've enjoyed:
There are other biographies that catch my eye, but I never seem to pick them up. I do try to have a handful of current athletes, pop stars, and rock stars, but it's unclear if teens actually like them.

I'm also not looking strictly at singular biographies. I've read some excellent group biographies including:
Let Me Play: Story of Title IX
But for me the question remains: Are there biographies published with teens in mind that they will enjoy? If there are, please let me know because I want to make every purchase count this year.