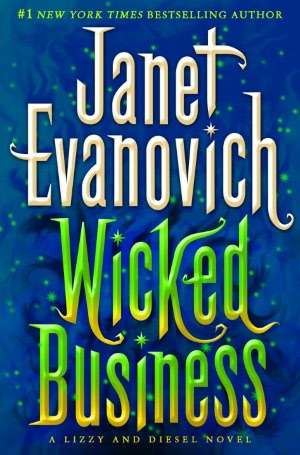 Lizzy's life used to be normal before she met Diesel. Now's she longing for those ordinary days as a pastry chef. Instead, she spending time worrying about the stones - this time the Luxuria Stone (infused with the power of lust.)

When a man dies, Lizzy and Diesel know it wasn't an accident. They know his death had something to do with the stone. Now they're in a race against Wulf to uncover the location of the stone.

As Lizzy and Diesel dig further into the mysterious death and the location of the stone, they uncover someone else searching fr the stones. This woman isn't playing nice - she really wants the stone. Lizzy's scared of people barging into the bakery and threatening her. She simply wants to find the stone quickly. Will she be able to find the stone first?
My Thoughts: I really like this series - a cross between a paranormal romance and the Stephanie Plum books. I adore Janet Evanovich. She writes with a mix of humor, danger, and tension. She keeps me turning the pages long after I should be in bed. I can't start one of her books until I know I'll have time to finish it.
I really liked this book. I liked learning more about the bakery.
Glo is an
entertaining
character with a unique look on life that makes me laugh.
I loved the search for the stone through the clues left behind. It reminded me of National Treasure. I loved Lizzy and Diesel trying to uncover the next riddle and breaking into buildings to uncover clues to the stone.
Cover Thoughts: Ok - love the font and the green/yellow
Source: My Library.