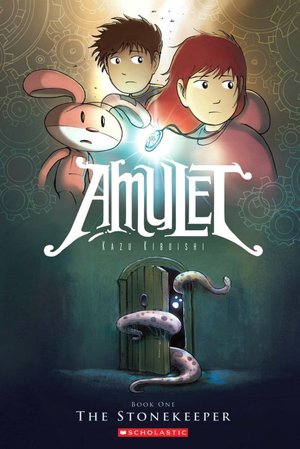 Emily and her family move to her grandfather's house after her father dies. She's never met her grandfather and his house has been long neglected.
They need to work on getting it ready to live in. While cleaning, Emily finds an amulet necklace. She immediately puts it on.
One night, they hear noises. When their mother goes to inspect the noise, she disappears through a door in the basement.
Emily and her brother don't want to lose her too, so they both enter the door...and are transported to a strange world. How far will Emily and her brother go to rescue their mother?
My Thoughts: An interesting and entertaining start to a graphic novel series. I kept seeing this book pop up on various blogs and wanted to see what the fuss was all about. It was a fun read with great illustrations. It leaves you hanging for the next book.
I know several

tweens

who will gobble it up.
Cover Thoughts: I like it - it's mysterious!
Source: My library