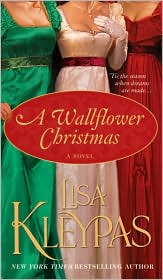 Lilian and Daisy's brother appears in England. Rafe and his father do not get along. Previously Rafe cut ties with his father and became a self-made man. Now, however, he's like to be part of the family business. He's willing to have his father pick out his potential bride.
Natalie is beautiful, sweet, and blue blood runs through her veins. She would be a suitable bride. However, Natalie fails to inspire him. She's not the woman he's been thinking about. She's not the woman he can't get out of his head.
He's thinking about her companion Hannah. Will he let his father dictate his marriage or will he follow his heart?
My Thoughts: I ADORE this series and was thrilled to see a holiday romance. I love the idea of honorary Wallflowers! Hannah was sweet, charming, intelligent, and darling. I loved the banter between Rafe and Lillian. I love the scene with the Christmas tree. A fabulous addition to the series!
Cover Thoughts: LOVE it - but they are missing a Wallflower
Challenge: a personal goal to read 10 Christmas Books this year