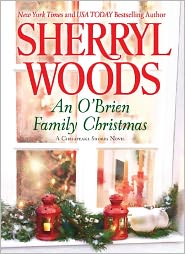 Susie and Mack are having their honeymoon - with the entire family over Christmas in Ireland. Most of the family's concerned about
Laila
and Matthew and their dating habits.
The O'Brien family can't help but meddle in relationships. They aren't going to give up now.
Laila's
trying to figure her life in the aftermath of her fight with her father. Her father's cut her off because of her relationship. But
Laila
still cares for Matthew.
Matthew makes his feelings clear. Can
Laila
and Matthew work out their differences while dealing with the holiday festivities in Ireland.
My Thoughts: I LOVE LOVE LOVE this series! I loved the trip to Ireland with Gran sharing stories from her past. I loved the relationship progressing between

Laila

and Matthew. A sweet romantic tale.

One side note - this isn't a stand alone read - it's in the middle of a wonderful series. Those picking it up without reading the prior books might be a bit lost.


Cover Thoughts: Charming

Challenge: a personal goal to read 10 Christmas Books this year