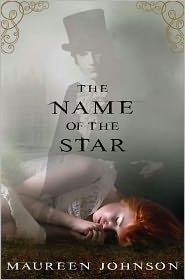 Rory's headed for a London boarding school. Coming from New Orleans, she realizes that she'll have a lot of learn about British culture. She never dreamed she'd have to learn about Jack the Ripper. But when murders start occurring in the same fashion and the same timing as Jack the Ripper, the whole city goes into panic mode.
Rory and her roommate slip out of their dorm room and head for the boys' dormitory. As they return and Rory is just about to climb through the window, she sees a man. They have a very brief conversation and then Rory returns inside.
The next day, they wake up to discover, a woman's body has been found on the school property. The murder happened just as the two girls were sneaking back into their rooms. Rory comes forward with her knowledge. The police question her and her roommate (who saw no one).
Could the new Jack the Ripper be coming for Rory?

My Thoughts: I confess that I only read this book during daylight hours. That's right, I'm a wimp. I have nightmares from scary things. While this book was creepy, I really really liked it. I'm already looking forward to the next book in the trilogy. I loved how the students were so caught up in the Jack the Ripper story. I love how nerdy Rory and her roommate were - with their books, their tea, and their happiness to have nights in. I loved the romantic parts between Rory and Jerome. I loved the police. The last fight scene was scary – but awesome. I saw Maureen Johnson speak a few months ago and she's hilarious. I quite adore her and her books!
Cover Thoughts: Spooky.
Source: my library