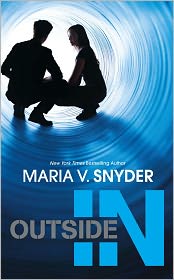 Trella started a revolution that changed her world. Now the people should be mixing together. The people should be performing jobs. The people should be happy to be free.
Instead resentment grows as the old connotations of the Uppers and Scrubs still exist. The Scrubs don't want to perform all the menial tasks and the Uppers don't want to work. The misconceptions build until no one wants to work.
Trella's frustration grows with the committee who spends more time arguing than acting. Instead, she begins to seek out solitude and solutions on her own. She learns that there's a group sabotaging their world. Then she learns they aren't the real threat. There's a much greater threat coming from Outside.
My Thoughts: The sequel to
Inside Out
. I love this author! I loved her transformation where she learned to let in emotions. I love her logical approach to a problem along with her toughness and her sarcasm. I enjoyed reading what came after the rebellion and how the world changed.
Cover Thoughts: Pretty good.
Source: My Library