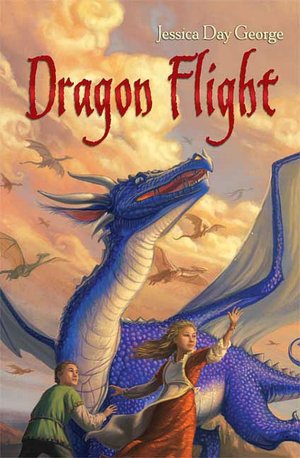 Creel and Marta are busy making Lady
Isla's
wedding gown - for her upcoming marriage to Prince
Milun
. Right in the middle of a fitting, Creel receives a note that
Citatie
has declared war.
The entire
Citatie
army is riding dragons.
Immediately Creel leaves for the palace where she volunteers to leading a scouting party into
Citatie
to spy on the other dragons. She hopes to gain information and bring it back to her King.
As Creel is the expert on dragons, it makes sense that she leads the party. The King finally agrees to her plan with the condition that his son's former bodyguard accompany her.
When they arrive in
Citatie
, Creel's horrified at what she discovers. They have a dragon army. They are breeding dragons. They are controlling dragons with alchemy. Creel's not sure she can stop this army. She hopes beyond hope that it doesn't come down to a dragon fight. After the last fight, she's not sure her friends will survive.
My Thoughts: The sequel to
Dragon Slippers
I love the bits about sewing (even though I can't sew well). I love the romance between Creel and Prince

Luka

. I love Marta. I love the dragons. I really just love this trilogy. I can't wait to read the conclusion.
In the acknowledgements, the author mentions how she never meant to write this book. Dragon Slippers was supposed to be a stand alone title, but her editor and her fans kept asking for more. She came up with the idea from chatting with her husband. I have to say, I'm awfully glad that she wrote it.
Cover Thoughts: Good - I like the dragons in the background flying.
Source: Inter-Library Loan.