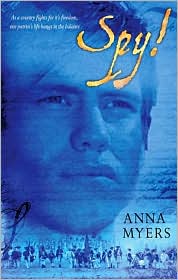 War is coming, but not everyone wants to fight against their neighbors. In a small town in Connecticut, one teacher helps mold minds towards figuring out your own beliefs and not attacking those who do not share your opinions.
Nathan Hale doesn't want to go to war and yet he believes in obtaining freedom from English rule. When the day comes, he does join the militia. He's willing to fight for his beliefs.
His students also have their beliefs, but one boy isn't sure which side to choose. His father who recently died believed in loyalty to the crown. The man who took his sister and himself in after his father's death also holds England in his heart.With war fast approaching, he will have to choose a side.
Will he follow his family's belief or his influential teacher's?
My Thoughts: Told in alternating perspectives of Jonah Hawkins and Nathan Hale, this book showcases the high tempers of the time period, the grueling decision everyone must make, and the lives and relationships changed because of this one major decision. I found this a fascinating historical fiction read - and not just because I live very close to where the action takes place.
The Cover: I like it - especially how the words and the boy's face coexist
Source: My library