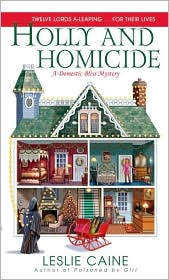 Erin and Steven finally admitted their feelings for each other. The past few months have been amazing. They're working on an old estate turned Bed and Breakfast for the holiday season. However this job is nothing like they expected.
First off, the building inspector and relative of the house manager ends up strangled after refusing to pass the house. With nitpicking details, it makes Erin wonder if there's someone sabotaging the project. Before she has more time to think about this particular problem, an unexpected visitor wrecks havoc.
Her ex-boyfriend from college appears and plants one on her. She barely has time to react - but she doesn't push him away immediately. Now Steve's unhappy with her.
Secondly, the house doesn't feel safe anymore. There's too many lies, strange occurrences, and near accidents to feel at home. Nevertheless, Erin and Steve continue their decorations of the rooms in the Twelve Days of Christmas theme. Erin starts digging because she can't stand the tension of the house. Will her questions trigger the killer to come forward again?
My Thoughts: I really like this series - for the decorating, the romance, and Erin - who is feisty, smart, curious, and a little snarky at times. Her relationship with Audrey adds a deeper dimension to the series. Plus, I do adore Christmas novels.
Cover: Cute!
Source: My Library
Fun Fact:
Leslie Cain
and her editor have tagged this series as "Nancy Drew meets
Martha Stewart"