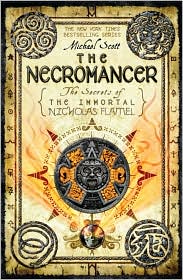 Sophie and Josh return home, unsure what to tell their Aunt about their adventures of the past few days.
They certainly can't tell her the truth. As they walk up the road, they notice a car outside the house.

Curious and hesitant, they approach the car. A woman exits and they believe it's someone they know.
However, almost too late, they realize it's an identical twin. Sophie ends up kidnapped and Josh left
scrambling behind.

In order to save his sister, he travels back to the start of their adventure, the Flamels. Once he confides in
the
m
, they quickly follow after Sophie.

The Flamels don't have much time and they have already decided to fight before things spiral too far out of
control, even though it might be the last thing they accomplish. They find Sophie and those watching over
her. Together, they come up with a plan of attack.

Before they can accomplish their goals, they request someone to awake the fire powers in Josh. He readily
agrees to the plan, already feeling inferior to his twin.

However, the Flamels didn't consider Dr. Dee in their planning. While his masters aren't pleased with his
failures, Dr. Dee always has a plan. This plan includes taking over the world, but he needs Josh in order to
set his plan in motion. Will Josh cross over to the other side and leave his twin and the Flamels behind?

My Thoughts: The fourth book in this
wonderful
series won't disappoint fans with its magic, history, mythology, clever
characters, evil plots, and strong sibling bonds.
THE SECRETS OF THE IMMORTAL NICHOLAS
FLAMEL
is addicting and will leave readers on the edge of their seats.


The Cover: Awesome, I love these covers


Source: reviewed for
www.teensreadtoo.com
Where I gave it the
: