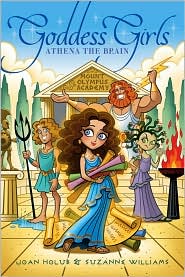 Athena believes she's a mere mortal, until a message from her father Zeus commanding her to Mount Olympus Academy. She's excited at the chance to learn something more challenging than her current studies, but she's sad to leave her foster family behind.
When she arrives at the school, she realizes that she's behind in her education. She has no idea how to perform magic. She doesn't want to mess with mortals for entertainment. Athena doesn't want her father to consider her a failure.
When she realizes she's on the wrong side of friendship with Medusa, she's not sure what to do. But she's not about to let Medusa and her sisters ruin her chance. Luckily, she does make friends with Aphrodite, Athena, and Pandora. Will she make a stand against Medusa and find her place at the Academy?
My Thoughts: The start of a new series for tween girls is amazingly cute and seriously fun. I love the combo of brains and fun in making a well rounded goddess girl.
The Cover: Very Cute
Source: My friend Jessica from
I READ TO RELAX
loaned this to me.