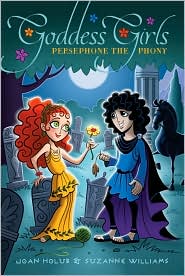 Persephone likes to make her friends and her mother happy, but it's often at the expense of her own happiness. She isn't interested in going shopping, or knitting, or having a makeover. She just doesn't know how to tell her friends without them becoming upset. She does meet one godboy who understands, Hades.
Unfortunately, Hades has a bad rap. Neither her mother nor her friends approve of their new friendship. Suddenly, Persephone can't stand it anymore. She meets Hades in secret, in a gloomy cemetery. Will she stand up for her new friend so they can hang out in public or will she go back to making everyone but her happy?
My Thoughts: This is the second of the Goddess Girl series - from another girl's perspective. I like how the goddesses/gods are portrayed as tweens. The first two books portray one goddess finding her true self while dealing with everyday issues plus magic.
The Cover: Super cute!
Source: Loaned from Jessica at
I READ TO RELAX