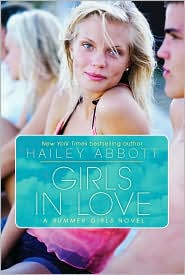 It's summer again, and the girls are back in Maine taking the beach by storm. Greer, Jessica, and Lara each have a goal for the summer.
Greer hooks up with a boy on the first night at a party, but she knows that he's a player. She walks away from him, but he keeps popping up - and not just in her thoughts. Will she attempt something more with him?
Jessica wants to become closer to her boyfriend from last summer. They're talking about taking the next step. Only he's turning down her offers and spending time with another girl. Could it be trouble in paradise?
Lara spent last summer hooking up with her step-cousin. She hasn't talked with him in a month and is shocked to discover he's not in Maine this year. Lara supposes it's his way of telling her he wants to break up. She mopes around a bit before another guy catches her eye. Suddenly, halfway through the summer, Drew is back - and wants to pick up where they left off.
My Thoughts: GIRLS IN LOVE picks up a year after SUMMER GIRLS as the three girls spend their summer flirting with boys and worshiping the sun. They're happy to be back together chatting about fashion, family, and boys. I adore Hailey Abbott, and her books are the perfect summer read, either on the beach or just to get you in the mood for summer. They're romantic, adorable, and full of close friendships.
The Cover: Cute and similar to the first on the series and to the Summer Boys series
Source: Reviewed for www.teensreadtoo.com