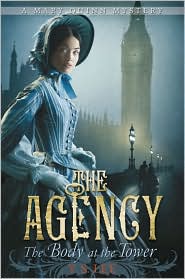 Mary Quinn will take on her most challenging assignment for the Agency yet. She'll have to pose as a twelve year old boy looking for work at the construction site for the Houses of Parliament. A man fell from his death from the top of the tower and nobody can figure out more details.
This assignment brings back memories from her old life where she lived as a boy on the streets until the ladies rescued her. In order to replicate her persona, she will remain incognito throughout the mission. Under the circumstances, her emotional state remains fragile, nervous, and scared. However, she's determined to take this assignment and see it through.
On her first day as Mark, she makes two grave mistakes within minutes of arriving on site. She makes it known that she can read, which gives her an edge on most men. Mary's making a little progress on the case when Mr. James Easton appears - also on the case. It's been a year since she's seen him and he's changed drastically. When he doesn't seem to recognize her, she's not sure if she's happy or disappointed.
Can Mary/Mark worm her way into the building crowd enough to uncover the truth about this man's death. Could it truly be an accident or something more sinister?
My Thoughts: There are so many books I read that blow me away - and this series is one of them. How long until the 3rd book comes out? I ADORE this series. It's so amazing - there's the thrilling spy moments, the uncover scenes, the mystery which always leads to danger, and the romance. I heard there will AT LEAST be three volumes to Mary Quinn's adventures. I would love to read more. I also heard there might be some novels about other characters in the Agency. I would love reading about Felicity and Anne and how they founded the agency. As you can tell, when it really comes down to it, I just want MORE (and quickly!)
The Cover: I LOVE LOVE LOVE this cover. Plus, the dress comes from a great scene in the book.
Source: I begged Candlewick for a copy (something I NEVER do, but I *needed* this book)