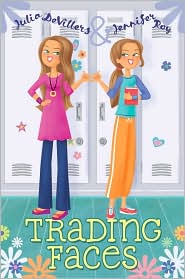 Twins Emma and Payton begin their first day at a new school - one with boys no less. They're both eager to make an amazing first impression. Emma wants to known for her scholastic achievements and Payton wants to be known for her fashion sense. Emma's first day is terrible. She's going to have to prove her smarts to everyone and it's not going to easy as someone else is considered the smartest girl. Payton loves the new schools. She's already gained access to the popular girls, thanks to her new wardrobe. When she has a mishap at lunch a few days later, she can't believe she has to show her face again.
Instead, the girls decide to switch places - just for the day. They're supposed to switch back before school lets out, but things get a little out of control. Emma smooths things over the popular girls and even gives them great fashion advice when they go shopping. Plus she meets a really great guy who seems to like her. Payton signs up for a video casting project - something in which only honor students can participate.
They vow they vow not to change places again, but Ox just called Emma asking her to sit with him during the pep rally and Payton wants to be on the video project. This time, something goes horribly wrong and their plan backfire. Will anyone at school still talk to the twins or have they both committed social suicide?
My Thoughts: Super cute story about two girls finding their tastes and ideas expanding while pretending to be each other. I love the idea of having a twin and someone who take your place
for the day.
Cover: Cute - appealing and fun and totally goes with the book.
Source: My Library
Next Up:
Take Two