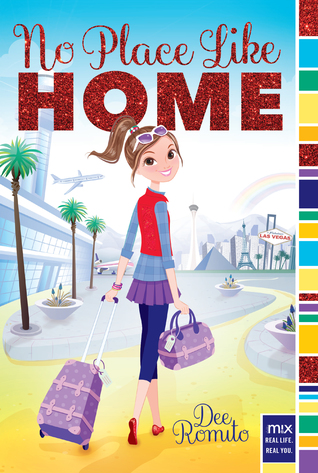 Ever since Kenzie's mom died, she's been traveling with her Dad for his job. She's traveled all over the world and gets tons of perks. But sometimes she's lonely. Sometimes she wishes they could stay in one place for an extended period of time.

When her father tells her they'll be in Vegas for six weeks, she's excited to go to middle school and to be normal. She makes friends the first day and starts joining all the clubs to meet more people and to finally belong.

But no one knows that her time there has a n expiration date. She ends up auditioning for the school musical to combat a mean girl. Kenzie wins the lead role. She also allows herself to be talked into the running for student government- as Vice President.

Kenzie feels guilty she won't be there for opening night of the play or there during the rest of the school year. She knows she has to tell her best friend. But what's going to happen when the truth comes out?
My Thoughts: I really enjoyed this book. I loved the traveling parts - where Kenzie saw different things and enjoyed fun perks of frequent travelers. I think that would fun - for a small period of time. I understood why she wanted a normal life. I loved that she was so excited about school - most people hate middle school. It was a switch. I like that she joined all the clubs but I felt bad for her she got into too deep and the guilt started eating at her. I loved the friendship moments and how she tried to make things right. I loved the father/daughter relationship. I enjoyed how she had famous connections in different cities - especially her photography friend. I love learning more about photography too! I can't wait to read more of Dee's books.
Cover Thoughts: Adorable! I love the red shoes
Source: My Library
Library Recommendation: A fun middle grade read - perfect for friendship books.