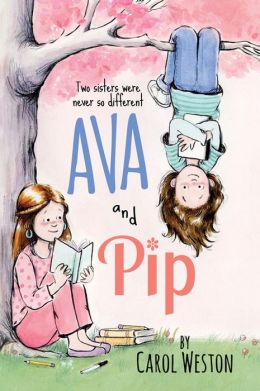 Ava and her family like playing with words. She thinks about entering a writing competition, but she's not sure what to write about until her sister's birthday party is canceled.

Ava writes about the girl who had a party on the same day, causing those invited to attend her party and not Pip's party. As a consequence, her sister's birthday was ruined. Ava wins an honorary mention and her story's printed in a booklet.

When Bea confronts Ava, Ava begins to see things from a different perspective. After Ava apologizes, they become friends. Ava and Bea work out a plan to break Pip out of her shell? Will Pip agree to their plan or will she dismiss the idea?
My Thoughts: I loved this book about sisters, family drama, writing, and friendship. I felt bad for Pip who's terribly shy. I felt bad for Ava because she often felt neglected in parental attention. I liked how she a Bea became friends and were able to put this whole mess behind them. I loved how Bea wanted to help Pip and came up with a plan. I loved the relationship between the sisters and how it changed as they both grew from this experience. A moving fun novel filled with hope and humor.
Cover Thoughts: Cute
Source: my Library